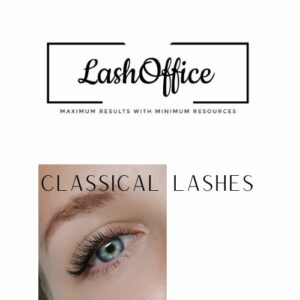 Classical lashes
Duration: 3 days
Price 899€
Price includes traditional glue, Lumisenses Led Glue Tweezer System and materials to start business.
First day 7 – 8 h
1. Theory
2. Lunch
3. Applying of eyelash extensions on the mannequin + homework
Student will learn on first theory day: 
1. History Of Eyelash Extensions
2. The Anatomy Of The Eye
3. Skin Anatomy 
4. Anatomy Of Eyelashes
5. Negotiation Card
6. Materials And Tools
7. Eyelash Extensions And Installation
8. Eye Shaping And Modeling
8.1 Mapping
8.2 Correct Installation Of Eyelash Extensions
9. Contraindications And Diseases
10. Health And Safety Requirements
11. Work Process
12. Frequently Asked Questions
13. Customer Information
14. Homecare
… and much more. 
The student gets practice eyelashes and all the necessary material to start applying eyelash extensions on training eyelashes at home.
Second day 7-8h 
Second day will take place when student has submitted pictures from homework, where the lash extensions have been made properly. 

1. Theory – homework inspection, eyelash tinting 
2. Lunch 
3. Working with the model – eyelash coloring, installation of eyelash extensions 
After second day student must submit pictures of 5 "customers" within 2 weeks'  time to get the permission to continue on the third day
Third day 7 – 8h
1. Theory and instructions (frequently asked questions)
2. Infill of lash extensions – maintenance of eyelash extensions, installation of crystals
. 
At the end of the third day, student will get certificate and 
is ready to perform classical lashes on a junior level.